Water
Policy Goals
Reduce growth-adjusted potable water consumption on all campuses and health locations by 20 percent by 2020 and 36 percent by 2025, when compared to a three-year average baseline of FY 2005-06, FY 2006-07, and FY 2007-08.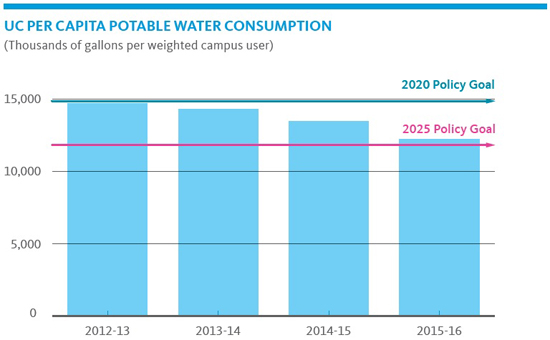 Progress Towards Goals
The UC Sustainability Steering Committee approved new water policies in 2015, including a 36 percent per capita reduction by 2025, a ban on new single pass cooling units in laboratories, and a commitment for each campus to draft new water action plans by December 2017.
UC Davis, Irvine, Merced and San Francisco have already met or exceeded the 2025 goal. UC Berkeley, Riverside, San Diego and Santa Cruz have all met the 2020 goal four years early and are on track to meet the 2025 goal.