Zero Waste

Policy Goals
Achieve zero waste (defined as 90 percent diversion from landfill) by 2020 at all locations other than UC Health locations, which will have separate waste reduction goals.
The University will reduce per capita total municipal solid waste generation at all
locations other than health locations as follows:
a. Reduce waste generation per capita to FY2015/16 levels by 2020
b. Reduce waste generation by 25% per capita from FY2015/16 levels by 2025
c. Reduce waste generation by 50% per capita from FY2015/16 levels by 2030
By 2020, the University will prohibit the sale, procurement, or distribution of Expanded Polystyrene (EPS) other than that utilized for laboratory supply or medical packaging products.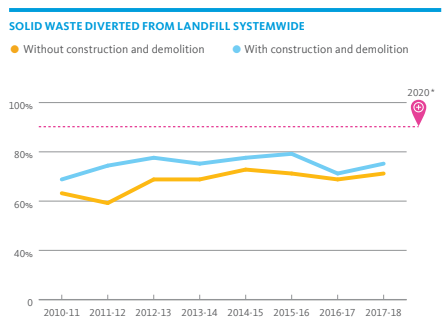 Progress Towards Goals
UC campuses are continuing to increase their overall waste diversion, diverting three percent more municipal solid waste this year compared to 2016-17. Including construction and demolition debris, 69 percent of campus waste was diverted from landfills in 2017-18. Campuses sent 1.6 pounds of municipal solid waste per person per day to landfill.
UC Irvine continues to achieve the highest waste diversion rate at 82 percent (not including C&D). UCSF (78 percent), Berkeley Lab (76 percent), and UC Davis (72 percent) are not far behind.
Complementing the 2020 zero waste goal, revisions to the Sustainable Practices Policy set waste reduction goals for each campus. Additionally, the zero waste policy language was updated to support the integration of waste, climate and other sustainability goals, including the reduction of embodied carbon in the supply chain through the promotion of a circular economy and the management of organic waste to promote atmospheric carbon reduction. In support of this goal, waste reporting will include tracking estimated scope 3 greenhouse gas emissions.
Website that provides resources for UC's Zero Waste by 2020 communications campaign.