Sustainable Foodservice
Policy Goals
Procure 20 percent sustainable food products by the year 2020 for campus and health location foodservice operations.
Certify at least one foodservice facility on each campus and health location as a green business.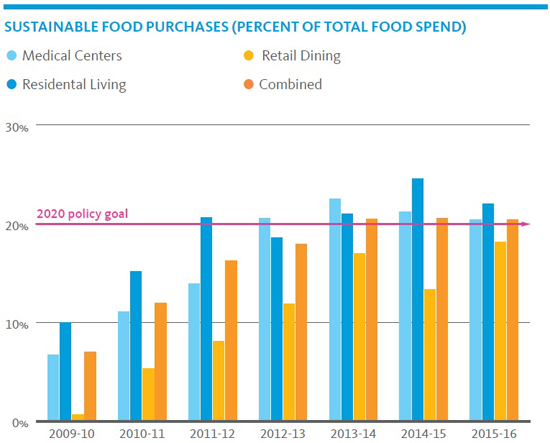 Progress Towards Goals
During 2015-16, UC continued progress toward increasing food procurement toward local, community-based, fair, ecologically sound and humane food sources. In terms
of sustainable food spend, residential dining programs spent $16.9 million (22 percent of total food spend, a 2.5 percent decrease over last year); medical centers spent $6.2 million (20 percent of total food spend, a 1 percent decrease over last year); and retail food operations spent $7.2 million (18 percent of total reported food spend, a 5 percent increase over last year).
UC San Francisco and UC Santa Barbara made significant progress in data collection for retail food operations, contributing in large part to the increase in this area. In terms of the decrease in residential dining sustainable spend, new procurement contracts, the avian flu and California's ongoing drought all affected each campus' ability to increase sustainable food spend. UC Davis and UC Berkeley in particular made operational and vendor changes this last year that hindered procurement and tracking of residential sustainable food products. Both campuses anticipate improved metrics next year as these changes are addressed.
UC Medical Centers made significant progress in purchasing antibiotic-free proteins, such as beef and chicken used by UCLA Health System, and chicken breasts used by UC Davis Health System. The UC Medical Centers continue to demonstrate leadership in sustainability and positive health outcomes through their commitments to antibiotic free as well as grass-fed proteins. UCLA, UC San Francisco and UC San Diego Medical Centers have all achieved the 20% sustainable food policy goal five years early.
Seven of the 10 campuses and five medical centers have certified at least one foodservice facility as a green business. UC Santa Barbara and UC Santa Cruz have the most certifications, including all of their residential dining facilities.
UC is harnessing its resources to address one of the critical issues of our time: How to sustainably and nutritiously feed a world population expected to reach eight billion by 2025.