Systemwide Human Resources
Cheryl Lloyd
Vice President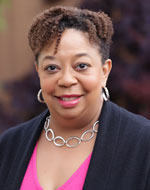 CHERYL LLOYD is the Vice President, Systemwide Human Resources and Chief Human Resources Officer (CHRO) for the University of California's 10-campus system, including medical centers. As Vice President and CHRO, Ms. Lloyd is responsible for Systemwide Human Resources and programs. This includes Strategic Planning, Employee/Labor Relations, Talent Management, Health & Welfare benefit policies and programs, Senior Management Recruitment, Compensation, Performance Management and ensuring compliance with the University's Staff Human Resources policies. She has oversight for the University of California Retirement Plan (UCRP). In addition, she oversees multiple programs that impact work and life for more than 200,000 people in diverse roles across the UC system.
Ms. Lloyd is an experienced executive with over two decades of University administrative leadership expertise. She began her career in the insurance and risk industry with Chubb Insurance. Prior to joining the University of California in 1998, she was the corporate risk manager for Core-Mark International.
Prior to this role Ms. Lloyd served as the University's Chief Risk Officer, overseeing all aspects of UC's Enterprise Risk Management program, including managing employment liability and workers' compensation, reducing the overall cost of risk, implementing systemwide safety and loss mitigation programs, improving claims management systems and developing risk-financing strategies. She also oversaw the University's Environment, Health and Safety programs (EH&S), business continuity programs, Student Health Insurance Program and emergency management, travel and risk-security programs. She developed UC Care, the University's self-insured employee health plan, which was transferred to UC Health in 2016 as part of an internal reorganization. She also founded and has served as president of Fiat Lux, the University's wholly-owned captive insurance company.
Her primary focus is to build upon the human resources organization to add strategic value. She is also charged with leading efforts to continuously improve the function and services it provides. The University has 190,000 faculty and staff across its 10 campuses, five medical centers, Agricultural & Natural Resources (ANR) and the Lawrence Berkeley National Laboratory.
Ms. Lloyd has a dual degree in Mass Communications and Sociology from UC Berkeley. She is a recipient of the LEADERS40 2021 Top 40 CHRO Award.