College Access and Preparation Forum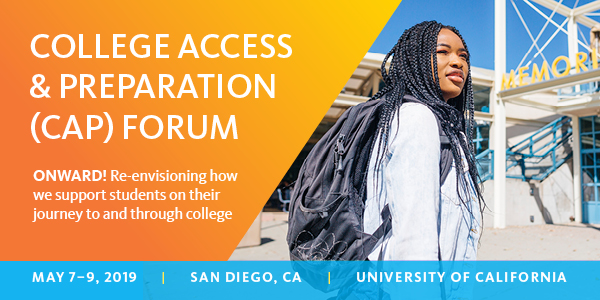 UC College Access and Preparation Forum 2019
Onward! Re-envisioning how we support students on their journey to and through college
CAP Forum 2019 invited participants to re-imagine, together, the ways in which UC supports low-income, first-generation and educationally disadvantaged students along the postsecondary path. We used data, the observations of seasoned leaders and educators, and our collective expertise to explore foundational questions in a fresh light.
How do we support students who possess the fewest resources, the least social capital, as they navigate the complex and sometimes confusing route to and through college? How can we prepare them to meet their academic, social and basic needs when they arrive on a college campus? And how does UC's history inform the future of outreach? The 2019 Forum engaged participants in a forward-looking and participatory event.
CAP Forum 2019 took place May 8–9, with pre-conference workshops held on May 7.
Workshops focused on the Destination College Advising Corps (DCAC), CREATE STEM Success Initiative, social media strategy and a new outreach officer academy.
Information sessions from CAP Forum 2019 covered the topics of policy, data and promising practices in college access and preparation.
Dr. Ramon Resa, UC San Diego Chancellor Pradeep K. Khosla and plenary speakers from across UC led CAP Forum 2019 general sessions.