Seeking to improve diversity and strengthen UC graduate programs by investing in relationships between UC faculty and Historically Black Colleges and Universities (HBCUs).
The University of California's reputation as a premier research and teaching institution rests on its capacity to serve the State of California, and nation, at the highest levels. This requires attracting and graduating scholars who reflect the communities of the world.
At the graduate level, African Americans/Blacks are extremely under-represented in UC graduate and professional programs. The five-year average (2010–2014) for enrollment of African Americans in UC academic doctoral programs is 2.8 percent.
Through the UC-HBCU Initiative, the Office of the President encourages UC faculty to actively engage in collaboration and cooperation with faculty and students at HBCUs. Such efforts serve to strengthen and enrich our mission of teaching, research and public service.
An average of 43 percent of submitted proposals have been selected for funding. During the Initiative's first four summers, UC hosted over 230 scholars across nine UC campuses. Twenty Ph.D. students and two academic master's students are currently enrolled at UC — and one master's student has already graduated — as a direct result of this Initiative.
Contact Us
Email

University of California
Office of the President
1111 Franklin St., 11th floor
Oakland, CA 94607

Program spotlight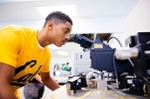 The Pathways to Science & Engineering Doctorate Program at UC Berkeley, led by PI Tsu-Jae King Liu, offers research internships in Physical Electronics and Optical Engineering for HBCU undergraduates.  The program builds on an existing highly successful multi-disciplinary summer research program called the Center for E3S Research Experiences for Undergraduates (E3S REU).