Mission, vision and values
MISSION
In partnership with the UC community, we provide innovative, efficient and effective operational services to support the University's mission.
VISION
We will achieve a level of operational excellence equivalent to UC's world-class teaching and research enterprise.
VALUES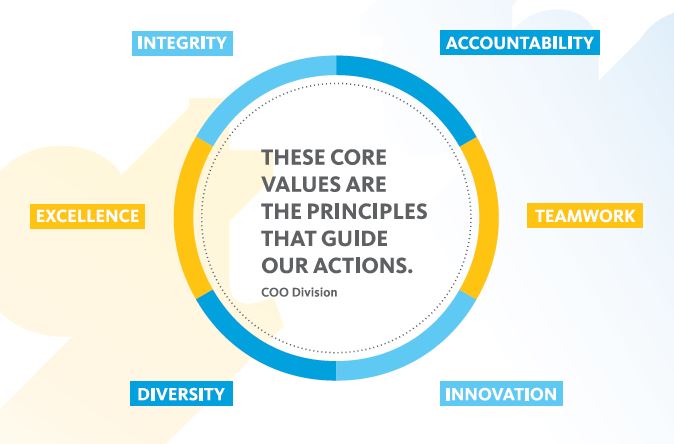 INTEGRITY

We act in an ethical, credible and trustworthy manner.

EXCELLENCE

Our work is balanced, rigorous, timely and accurate. We maintain a high performance standard and promote efficient, effective outcomes which exceed expectations.

DIVERSITY

We embrace diversity in all its forms, practice mutual respect, and strive for a community that fosters an open, inclusive and productive environment.

ACCOUNTABILITY

We are responsive to our stakeholders' needs, follow through on our commitments and take ownership for our decisions and actions.

TEAMWORK

We are collaborative, believing that collective action produces greater results than that of any one individual.

INNOVATION

We remain open-minded and employ ingenuity to solve problems and critically evaluate options to improve outcomes and processes.