Building & Administrative Service Center
Lobby One Conference Room
Lobby One in the Franklin building is the largest of all conference rooms under the management of the Work Management Center (WMC).  It has a small kitchen equipped with a refrigerator and a microwave, a small breakout room and a restroom.  It is capable of holding 140 standing people and can accommodate most seating configurations with movable furniture.  WMC has in stock 25 rectangular 5' x 2.5' tables and 110 chairs.  See room layout.
Eligibility
Only UCOP departments are eligible to reserve Lobby One. 
Reservation
Contact WMC at (510) 987-0600 or buildingservices@ucop.edu.  You should verify room availability in Outlook prior to contacting WMC.  Lobby One reservation is on a first come, first served basis; however, WMC reserves the rights to prioritize events and may cancel or negotiate reassignment if necessary. 
Lobby One also serves as the UCOP Emergency Operations Center (EOC).  EOC activation to manage UCOP or Campus emergencies takes priority over all other uses, and may occur with little or no advance notice.
WMC will cancel your reservation if you don't meet the following conditions:
Required minimum number of attendees is twenty (20).  Exceptions may be granted if WMC can confirm limited availability of the other conference rooms.
The Lobby 1 Setup Request Form must be completely filled out and submitted to WMC at buildingservices@ucop.edu at least five (5) business days in advance of the event.  Any changes to the setup must be submitted no less than three (3) business days in advance of the event.
Hours of Operation
Monday – Friday:  8:00 a.m. – 5:00 p.m.
Reservations after 5 p.m. and on weekends are subject to staff availability and will incur additional costs for security, setup and breakdown.
Audio-Visual Equipment
Audio-visual (AV) equipment is available and must be reserved at the time of room reservation.  WMC can only support Lobby One equipment.  Computers brought in by the host department or attendees can be used at the owner's discretion, but WMC cannot support the equipment or guarantee its operation.  During the event, WMC only provides limited operational and technical support.  Therefore, you are advised to contact WMC in advance of your event to discuss training and schedule a test run.  WMC will advise you if additional assistance is required from ITS or other support groups.
Room Configurations
WMC provides one seating configuration per event using WMC's movable furniture.  If you plan to bring in outside furniture, please coordinate with WMC to make sure the proposed equipment will fit in the room and that the existing furniture can be stored elsewhere. The hosting department is responsible for the delivery, setup and removal of third party furniture. To avoid personal injury and property damage, the hosting department will be required to submit an iRequest to request the services of Nor-Cal Moving Services for these tasks.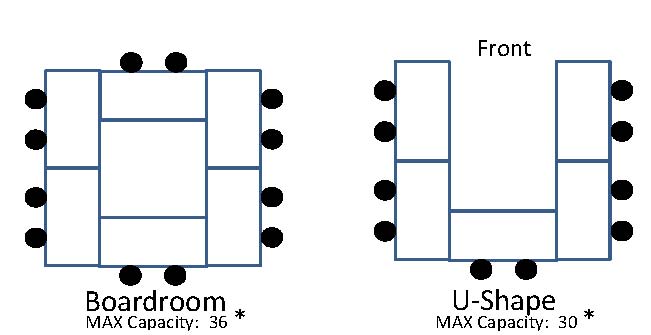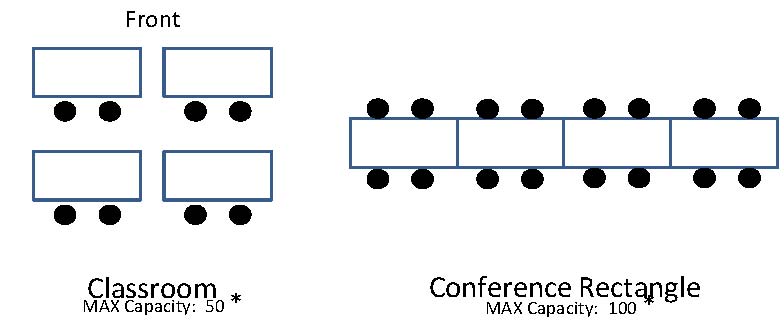 * Perimeter can be set to accommodate additional attendees.
Damages
The host department is responsible for the full cost of repair or replacement for any damage to the facility including furniture, curtains, white boards, AV equipment, carpet and other fixed furnishings.
Signs
Announcement and directional signs may be posted on walls or any painted surfaces using a painter's masking tape only.  The use of tacks and push pins is also not allowed on walls.  Contact WMC for the masking tape.  In addition, signs may only be posted on the day of the event and must be removed promptly at the conclusion of the event.
Catered Events
Food and beverages may be served with advance notice.  Cleaning and removal of food waste are the responsibility of the host department.  Department will be charged cleaning fees for areas not restored to original condition.  Be sure to reserve enough time to allow for setup and breakdown by the caterers.
Smoke Free Environment
All UC buildings, including the Franklin building where Lobby One is located, are strictly non-smoking facilities.  Smoking is also prohibited within 25 feet of UC buildings or on the patios.
Breakout Room
The breakout room is included in all Lobby One reservations.