UC San Diego: Open for Small Business
Game Plan by Anthony Singleton, Chief Small Business Officer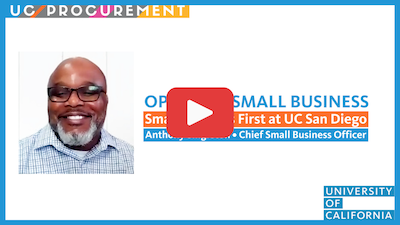 (Click image to view interview with Anthony Singleton)
The Small Business First program (SB First) was the perfect disruption to intentionally increase small business participation and contracting opportunities for all the right reasons. Implementing the SB First program with our suppliers was almost a no-brainer for us. It was a natural extension of the UC San Diego Open for Small Business program we had already created to address the impact of COVID-19. The pandemic had made it increasingly challenging for small businesses to stay afloat. The Open for Small Business program was committed to saving these small businesses by reaching out to inform them we were still open and available, and finding new ways to connect them with our campus clients.
But successfully developing the SB First program internally required a strategic approach. First, we needed to understand the policy, program goals and objectives, and determine how it fit with our existing small business efforts. This was key to minimizing the brewing undertones from those concerned about the program increasing their workload. Next, it was important to establish a core team with broad skillsets to ensure a diversity of perspectives and help deliver a stellar program, and ultimately, become advocates for Small Business First.
Another main goal was to lessen the impact of implementing the program on users across all levels. To further this, we hosted procurement buyer and campus department buyer focus groups to understand how the program would impact daily responsibilities. Hearing their perspectives helped us determine how to implement a more shared and balanced approach using our current requisition process. We knew making minimal changes to existing processes would increase user acceptance and adoption.
Our next step was to conduct a data assessment to identify opportunities and forecast the types of orders that would potentially qualify for the program. The data assessment resulted in five (5) main areas of focus: research, information technology, facilities management, housing and dining, and professional services.
A deeper analysis of the data in each of these categories did not always yield the results we expected. A second line-level review in the research/medicine category revealed that the additional cost in time and resources for a very small return would not benefit our ROI. As a campus heavily involved in research, we concluded it was in our best interest to create a blanket exemption in this category to keep research moving forward without supplier sourcing delays.
Certain challenges required us to be more thoughtful and creative in our approach. While the policy was still interim, we needed to get program buy-in without an official policy in place. Our focus groups encouraged staff investment in process creation, and staff program training helped reinforce a level of ease and confidence. Understanding how SB First complemented our existing small business outreach helped alleviate staff concerns about increased workload, and introducing a 'Small Business First Champions' recognition program helped turn resisters into allies.
These efforts are already paying off with multiple expected benefits for various stakeholders. Benefits include:
A simplified path to identifying new suppliers
Increased resilience, flexibility, and inclusivity within our supply chain
Increased business participation, performance, and contracting opportunities for small businesses
Increased community involvement and competitiveness from small and diverse businesses
UC San Diego's continued interest and commitment to economic growth within our local business community.
With the Small Business First program, UC San Diego procurement and department buyers can more effectively engage and utilize local and small businesses. In turn, these businesses are increasingly contributing to education and research, creating jobs, strengthening neighborhoods, and growing the economy by providing quality products and services.