NAEP Awards
UC Sweeps Awards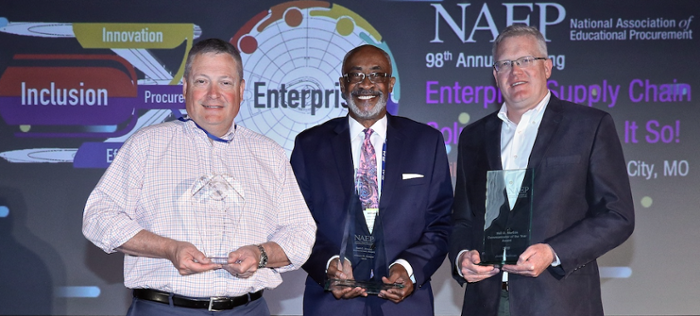 The University of California swept a number of the award categories at the recent National Association of Educational Procurement (NAEP) Annual Meeting in Kansas City, MO. Pictured (L-R): Tim Maguire (UC Davis), Bill Cooper (UC Procurement Services), and Justin Sullivan (UC Procurement Services).
UC Davis Supply Chain Management, represented by UC Davis CPO Tim Maguire and other staff members, received the NAEP Award of Excellence in Procurement, recognition for a procurement/supply chain organization that demonstrates innovation, exemplary practices, technological leadership, excellence and professionalism, and delivers significant value to their key constituents and the mission of their institution.
Bill Cooper, AVP & CPO of UC Systemwide Procurement, received the highest and most prestigious NAEP award, the Bert C. Ahrens Achievement Award, recognition for a member who has made outstanding contributions to educational procurement over an extended period of time. Award criteria includes providing inspiration to others, making exceptional contributions to the strategic procurement field, elevating awareness of the procurement profession, and demonstrating continued loyalty and dedication to the NAEP Association.
Justin Sullivan, Strategic Sourcing Director, UC Systemwide Procurement, received the Neil D. Markee Communicator of the Year Award, which recognizes the member who has made the most outstanding contribution to the profession during the year through teaching, writing, speaking or social media. If you haven't already, connect with Justin on LinkedIn so you receive his interesting and informative Procurement postings in your LinkedIn newsfeed.
By Bara Waters - Manager, Communication & Training, UC Procurement Services