Pursuing Procurement Excellence
Connecting the Power of the Entire UC System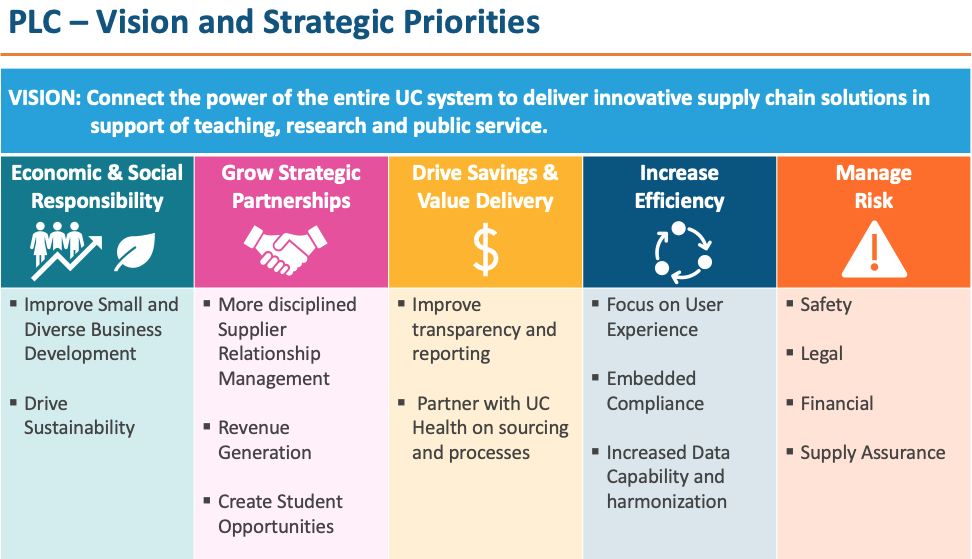 "Every job is a self-portrait of the person who did it. Autograph your work with excellence." – Ted Key
UC Procurement recently closed out the SC500 program to concentrate on advancing our updated priorities in a program we call Procurement Excellence. SC500 focused on identifying value across the entire supply chain and on coordinating across the campuses where possible. Procurement Excellence focuses on increasing capability and capacity.
Procurement Excellence builds on SC500 to drive continued improvement by connecting the power of the entire UC system – including UC Health – to deliver innovative supply chain solutions in support of teaching, research and public service. There are five key priorities we are spotlighting to achieve this vision. These include:
Economic & Social Responsibility
Growing Strategic Partnerships
Driving Savings & Value Delivery
Increasing Operational Efficiency
Managing Risk.
The Procurement Excellence initiative is being integrated into the Systemwide Procurement overall strategic plan. The Procurement Leadership Council (PLC) is collaborating to rank and operationalize specific projects, including updates to our Procurement capabilities and processes.
While looking forward, it's also important to reflect on the advancements achieved under SC500 which include:
Campus-specific supply chain expansion at Davis, Merced, UCSF and UCSD
Mobilizing systemwide revenue generation by piloting UC Partnership Programs
Enhancing systemwide procurement platforms: Benefit Bank & CalUsource
Assessing opportunities for systemwide Supplier Data Management and Normalization
Enhancing engagement with campus Senior Leadership via the SC500 Advisory Group
Funding a dedicated Procurement Policy & Compliance contract position for systemwide support.
As we celebrate these accomplishments, we also acknowledge that these results were achieved despite several strong headwinds, including COVID-19 disruption, staffing challenges, and challenging new policy directives. SC500 laid a strong foundation for our continued and renewed pursuit of procurement best practice. We now look forward to moving into the next phase of Procurement Excellence.