Small Business First Program
Taking Care of Small Business First
The University of California is 'taking care of business' with small, local and disadvantaged businesses by putting them first in our procurement process.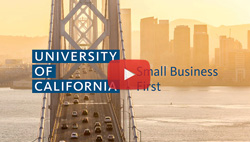 (Click image to watch Small Business First video)
Faster, Easier, Empowering...
Small Business First increases contracting and procurement opportunities for certified Small Businesses (SB) and Disabled Veteran Business Enterprises (DVBE) by using a streamlined quotation process. The direct quotation-to-award approach makes the procurement process faster and easier.
Small Business First calls for all non-construction UC contracts and procurements between $10,000 and $250,000* to be awarded to a SB or DVBE, wherever applicable. (*See exempted categories below)
To make an award, only one quote is required for purchases below $100,000, and only two quotes are required for procurements between $100,000 – $250,000.(Program and process details may vary slightly among campuses.)
How to participate in the Small Business First program:
Learn more about doing business with UC:
(Click image to watch webinar recording; click pdf link to see slide deck)
Other ways to raise your profile with UC:
State of California Resources to tap into:
Read more about UC's Small Business First program: UC Targets Purchasing Power with Small Business First Program.
Working together, we can help each other thrive.
*Exempted purchase/contract categories: