Research Grants Program Office
Industry-university collaboration and innovation
RGPO oversees two programs that aim to enhance industry-university collaboration and innovation: the Proof of Concept Program and the UC Discovery Grant.
Proof of Concept Program: Commercialization Gap Grants
The Proof of Concept Commercialization Gap Grants (PoC Program) initiative was launched in 2011 to advance both the research and public service missions of UC. The program funds innovations and discoveries at the cusp of commercialization that require a final demonstration of their commercial viability.
The PoC program enhances the University's research mission through the highly selective identification and funding of compelling projects that advance the University's position as a leading source of innovation, and provides a public service by supporting the commercialization of discoveries that benefit the California public and the State's economy by attracting investment, creating jobs, and enhancing quality of life in the State. After its initial launch in 2011, this grant program generated great momentum and praise as UC strives to meet its mission of public benefit and support of California's technology based economy by helping to translate discoveries from our research enterprise into commercial products and services. A third grant competition was held in 2012, with awards beginning in Summer 2013.
For information on eligibility and requirements, see the most recent call for proposals. For information on awardees, see 2013 awards and administration.
UC Discovery Grant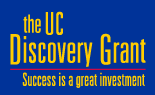 The UC Discovery Grant (UCDG) promotes collaborations between University of California researchers and industry partners in the interest of supporting cutting-edge research, strengthening the state's economy, and serving the public good. UCDG research projects are jointly funded by a UC Discovery Grant and an industry sponsor matching contribution, forging partnerships to advance the following goals & priorities.
Letter regarding impact of UC budget cuts on the Discovery Program (pdf)
Goals & Funding Priorities:
Advance knowledge through supporting high-quality research relevant to California's economy
Build lasting relationships between UC researchers and industry partners to enhance the state's economy and to help address critical problems facing California
Enhance student training to prepare California's future workforce and industry leaders, and position California for international competitiveness in emerging areas
Accelerate the transfer of research discoveries and technological advancements to California industry, for public benefit
UC Discovery Grants are open to all research fields and emphasize potential for rapid translation and commercialization of technological advancements that benefit Californians. Proposals are evaluated for research excellence and innovation, qualifications and engagement of personnel, and benefits to the California economy and the public good.
Benefits to California and the California economy include:
Accelerating innovation in California and creating the foundation for new technologies and products
Growing California's skilled workforce and creating the foundation for new California jobs
Increasing competitiveness of California companies, particularly to attract greater investments and retain jobs in California
Establishing the foundation for creating new California companies
Identifying new solutions to critical California problems
UC Discovery Grants are managed by the Research Grants Program Office in the Office of Research and Graduate Studies. Competitions are currently offered twice a year.
For information on UC Discovery award administration, email RGPOGrants@ucop.edu. The UC Discovery Grant is not currently offering new funding opportunities.