Be Smart About Safety (BSAS) Loss Prevention & Loss Control Funding - Systemwide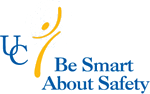 Each year, Risk Services budgets a small amount of its total budget allocation to fund proactive Loss Prevention (LP) and Loss Control (LC) projects at the campuses and medical centers. This funding is intended for projects specific to the purpose of reducing the frequency and/or severity of potential loss in the areas of our workers' compensation, general liability, employment, auto and property programs.
Applications for the Loss Prevention and Loss Control projects are due on May 1st prior to the next fiscal year.