Starlight Award nominations due March 29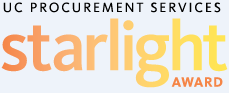 Final nominations for the 2016-17 Starlight Award Program are due to PLC members by March 29th.  The deadline has been moved up from May 1st so the PLC can make decisions at their last FY16-17 in-person meeting in April.
Introduced in 2015, the PLC established this exclusive recognition program to spotlight the achievements of procurement professionals, systemwide, for exceptional projects and engagements that contribute to advancing UC Procurement's core mission. This program promotes our vision of being recognized as high-performing strategic partners and supports the strategic objective of investing in the development of our team.
How the program works:
5 awards of $1,000 each will be given, recognizing individual procurement professionals for exceptional contributions in specific categories during the FY2016-17 fiscal year
Nominations are accepted on a quarterly basis but awarded annually
Nominations should be submitted to the PLC representative to whom the nominee reports (e.g. if the nominee is located at UCLA, but reports to Oakland, the submission should go to the Oakland supervisor) for discussion at the PLC quarterly meetings
Award recipients will be selected by the PLC  and announced and presented with awards in May. Award recipients will be recognized systemwide and through a local event.
The open award categories for nomination include:
Innovation
Awarded to the successful procurement professional who has creatively used or delivered lasting change to a University or procurement business process
Collaboration
Awarded to the successful procurement professional for achievements that exemplify campus or systemwide collaboration
Initiative Leadership
Awarded to the procurement professional for excellence and achievement in leadership on an initiative
Procurement Rookie of the Year
Awarded to the successful procurement professional who is relatively new to the procurement profession for achievements that advance the UC Procurement mission
The PLC will also nominate and select a winner for Most Valuable Procurement Professional or MVPP, which is awarded to a procurement professional or team of individuals who has achieved exemplary projects and initiatives that contribute to advancing the University's core mission.
Anyone can submit a nomination. Take a moment to consider this year's procurement accomplishments- you or one of your teammates might deserve this unique recognition!
Program details, qualifications and the nomination form can be found on the Procurement Services website. Completed nomination forms should be emailed to the appropriate PLC member.