SC500 Update
As you may recall, the Supply Chain 500 (SC500) assessment concluded last year. The results validated the $500MM target and about twenty opportunities to obtain this goal were identified. These goals were based on industry best practices, AT Kearney's recommendations and input from over 150 stakeholders across the system.
The recommendations were vetted with the PLC/PMB and members of the Advisory Group for feedback and support. Since then, we revisited each of the proposed recommendations, assessed the priority and required resources, and developed a 5+ year roadmap, with three phases. We received approval and support for this plan from the Advisory Group, Nathan Brostrom and Rachael Nava in January. The plan will now require approval with associated funding from President Napolitano.
Phase 1, the first 2 ½ years of the plan, will focus on advancing procurement planning and sourcing processes. These initiatives are currently within the systemwide procurement scope and/or will be led by procurement. The design and implementation of these projects will set the stage for future initiatives and provide benefit. We have also incorporated implementation of Procure-to-Pay as well as previously planned technology projects. 
The next two phases will be reassessed as Phase 1 closes. If approved to proceed, these phases will include Supply Chain initiatives that are cross functional in nature. Phase 2 is anticipated to focus on the design and implementation of plan, source, deliver, and pay process integration. Phase 3 is anticipated to focus on functional integration.
With the FY17/18 budget cycle in full swing, we are now working through how Phase 1 will be funded. Over the next month, our focus will be to continue to refine campus and project resource needs and impacts (with input from the PLC), finalize and secure funding, and secure third party support.
Keeping in mind that change readiness varies between campuses, our goal will be to balance unique campus needs with systemwide objectives. We will work hard to maintain open lines of communication through 1:1 sessions, information sharing, and regular updates.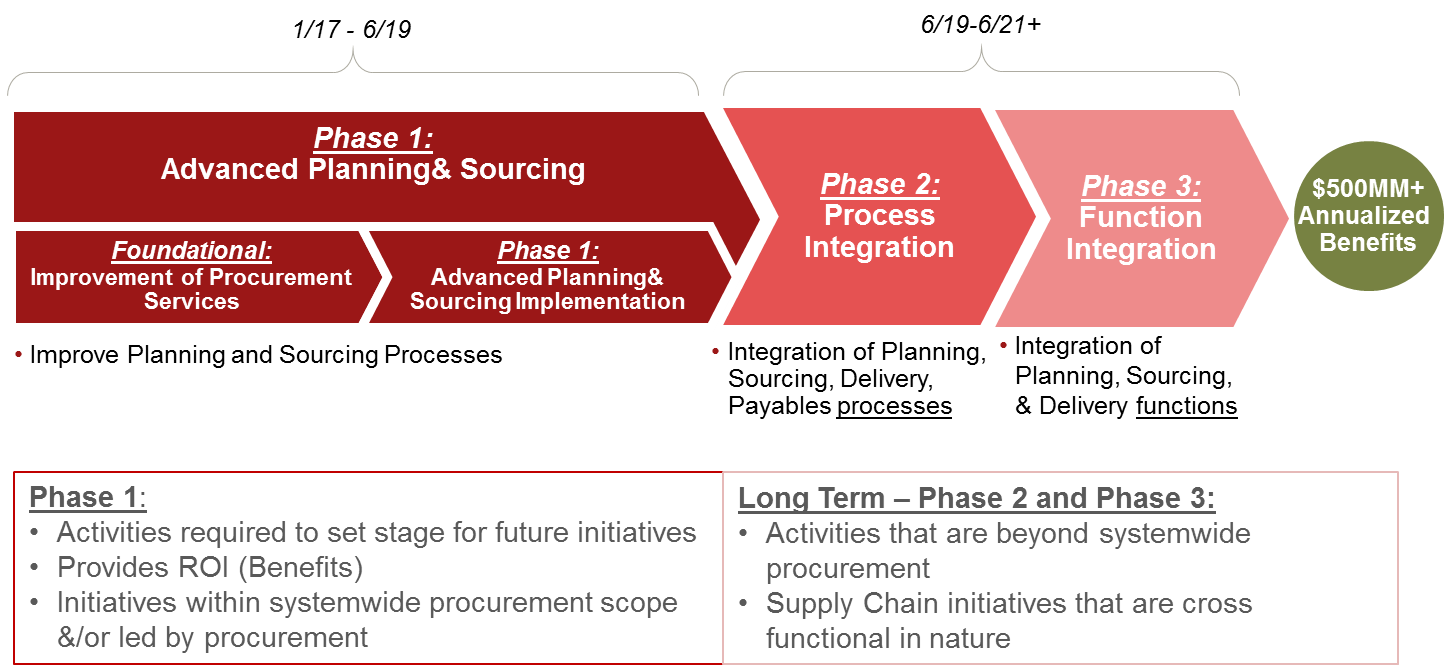 For questions or comments regarding the SC500 project, contact nik.neu@ucop.edu.