Unite to Light
Over 1 billion people live without access to electricity. For light they depend on kerosene, which is dangerous, expensive and a significant greenhouse gas pollution. While there is solar technology that can replace kerosene, the relatively high upfront cost is a barrier for people all over the world. This project will use carbon offsets to reduce the price of 5000 solar lights so that more people can afford to switch from kerosene to solar. This will provide 920 tons of carbon offsets, reduce air pollution and decrease expenses for people living in poverty. In addition, it will create economic opportunities.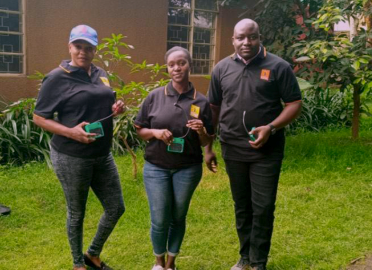 The project is made possible through a partnership between two nonprofit organizations: Unite to Light and Solar Sister. Solar Sister has a mission to eradicate energy poverty by empowering women with economic opportunity. They have created a deliberately woman-centered network of entrepreneurs to bring the breakthrough potential of clean energy technology to even the most remote communities in rural Africa. The model is simple: each Solar Sister Entrepreneur buys her lights from Solar Sister, then sells and delivers them to her family, friends, and neighbors. Solar Sister provides essential services and training that enable women entrepreneurs to build sustainable businesses in their own communities. 
The lights provided by this project are a vital resource for the entrepreneurs and their clients. The offset funds reduce the cost of the solar light, enabling people who could not previously afford a solar light to purchase one. This breaks the cycle of dependency on dangerous, polluting and expensive kerosene. Eventually the clients will save money (because they are no longer buying kerosene for their lamps) and may use those funds for food, school for their children, or another solar product that improves their quality of life. 
The lights provided were designed by the Institute for Energy Efficiency and Engineers without Borders at UCSB. They are manufactured by Unite to Light, a nonprofit organization that has delivered over 145,000 solar lights to people in 73 countries. UCSB students have played an active role in this project, including researching and writing the Project Development Document, and two consulting projects with 180 Degrees Consulting, a UCSB student consulting group. 
Project Lead/ Key Members
John Bowers
https://iee.ucsb.edu/people/john-bowers
Megan Birney
https://www.unitetolight.org/about-us.html
Katherine Lucey
https://solarsister.org/our-team/?type=leadership&pg=2&team=katherine-lucey
Project Updates
As of 2/28/21 1000 Solar Lights had been distributed 

Project Design Document has been submitted for Peer Review 

Developing a plan to expand the geography and number of lights distributed, as well as move from a  2 year crediting period to a 7 year crediting period
Links
https://www.unitetolight.org/#/
⇐ Return to UC-Initiated Offsets page