The Working Lands Innovation Center: Catalyzing Negative Carbon Emissions 
Overview
The Working Lands Innovation Center (WLIC), launched in partnership with the California Collaborative for Climate Change Solutions (C4S), is a new, multi-stakeholder consortium focused on testing the carbon and crop benefits of soil amendments in CA's agricultural lands. WLIC aims to catalyze negative carbon emissions by deploying soil amendment technologies at multi-acre scales in partnership with CA researchers, state agencies, industry, farmers, ranchers, Tribes and small-business development. Our mission is to minimize barriers to adoption of promising soil amendment practices and increase understanding of climate-smart interventions that can scale within and outside of CA, driving the state toward negative carbon emissions. Our approach addresses one of the greatest barriers to capturing carbon dioxide (CO2) in farmland by verifying the ability of rock-dust, biochar, and compost to sequester soil-carbon in real life settings across a variety of cropping systems (corn, alfalfa, tomatoes, almonds), rangelands (coastal and interior), soils, and climates.
Mission/Objectives:
The goal of the WLIC is to demonstrate and deploy a suite of soil amendment technologies, which hold scalable, near-term promise for capturing atmospheric CO2, reducing greenhouse gases (N2O, CH4, and CO2), and sequestering carbon in working lands. WLIC's mission is focused on extracting CO2 and catalyzing negative carbon emissions via approaches that generate multiple benefits for communities, industry, climate, Tribes, and the environment. Our project objectives include:
Verify CO2 capture of rock, compost and biochar amendments in cropland and rangeland soils
Demonstrate and quantify co-benefits, including N2O and CH4 reductions, of deploying the soil amendment technologies across geographically diverse sets of agroecosystems
Demonstration of combined CO2 capture technologies: factorial combinations of compost, rocks and biochar amendments
Conduct geospatial model analysis to identify best practices for scaling carbon removal
Develop an offset protocol based on research findings
Scale results within and beyond California through partnerships, commercialization efforts, offset registry meetings, and model scenario forecasts, and C4S convening
Partners/Engagement
Our industry and agricultural partners include the Almond Board of CA, Specialty Granules (Ione, CA), Pacific Biochar, Oregon Biochar Solutions, CA Compost Coalition, West Marin Compost, Due Farm, Bowles Farming and UC Cooperative Extension. We are also working with the Pauma Tribe located in the Pauma Valley near San Diego. This consortium allows us to engage in meaningful bi-directional learning and promote the most viable practices to meet the needs of diverse stakeholders. Barriers to adoption will be evaluated through stakeholder engagement and farmer surveys, including pamphlets, web tools, and in-person meetings. Virtual factsheets are being created in coordination the USDA California Climate Hub with the aim of developing a "climate-friendly" menu of soil amendment solutions for growers statewide. In coordination with UC Cooperative Extension/ANR, the WLIC team will develop an informational bulletin to discuss research, major outcomes, and findings. Tribal engagement activities are focused on identifying opportunities to promote the use of traditional ecological knowledge. Our academic partner institutions include:
UC Davis, Benjamin Houlton (lead PI), Director, John Muir Institute of the Environment; Professor and Chancellor's Fellow, Dept. of Land, Air and Water Resources
UC Berkeley, Whendee Silver (co-PI), Rudy Grah Endowed Chair and Professor, Dept. of Environmental Science, Policy, and Management
CSU East Bay, Patty Y. Oikawa, Assistant Professor, Dept. of Earth and Environmental Sciences
Lawrence Berkeley National Laboratory, Andrew Jones, Research Scientist and Program Lead, Earth and Environmental Sciences Area
UC Merced, Tapan Pathak, Cooperative Extension Specialist, Sierra Nevada Research Institute
Methods
We are currently deploying ~100 acres of soil amendments, spanning Coastal CA, the Central Valley, and Imperial Valley. We are monitoring carbon sequestration rates (inorganic and organic carbon), greenhouse gas reductions (CO2, N2O, CH4), soil health indicators, crop yields and forage biomass, crop nutrition, and nutrient and water use efficiency. We are also evaluating the economics behind the amendments and adapting the CA Land model to estimate full scale-up potential for carbon capture through 2050. Soil amendments include:
Composted manure
Softwood forest biomass biochar
Meta-basalt rock dust
Cropland sites include the Desert Research Extension Center (alfalfa and corn), Pauma Valley (olives), Bowles Farm (alfalfa and corn), Due Farm (almonds), and Campbell Tract at UC Davis (corn). Rangelands sites include the Sierra Foothills Research Extension Center where all experimental amendments were deployed in addition to 19 NRCS sites where compost has been deployed (Figure 1; NRCS sites not shown).
UC Offset funds will be used to measure nitrous oxide (N2O), which constitutes approximately 8-9% of global greenhouse gas (GHG) emissions, at an existing 6 acres of croplands as well as an additional four acres of UC land. N2O is one of the more difficult GHG's to mitigate due to the fact that it predominantly results from fertilizer use. These measurements are needed to verify carbon sequestration as changes in soil carbon alone only reflect gross carbon storage but do not reflect net carbon storage, which requires the measurement of soil GHG emissions. Will also measure carbon dioxide (CO2) and methane (CH4) (all measured using the same instrument). Verifying these GHG gains offers additional carbon dioxide equivalence (CO2e) beyond what most offsets currently anticipate. Our initial conversation with representatives from the Carbon Action Registry (CAR), an approved offset registry for compliance under California Cap-and-Trade program, indicate that CAR has a high level of interest in pursuing additional offset pathways that consider N2O mitigation approaches.
Offset Protocol
This project supports the development of an offset protocol that will generate offset credits from the application of compost, biochar, and rock amendments, alone or in combination, to generate CO2 capture and nitrous oxide reductions on California crop and rangelands. The most important limiting factor in offset protocol development is data collection and verification of GHG reductions. More data are needed to both: 1) verify carbon sequestration rates across crop and rangeland sites throughout California and, 2) better inform models and methodologies, which will scale up carbon offsets and develop the tools that translate scientific methodologies into practitioner protocols. In addition to soil carbon measurements, perhaps the second most important measurement to verify soil carbon sequestration will be the measurement of GHG emissions (CO2, N2O, CH4) from field sites – measurements that, at this scale, require the use of a sophisticated field instrument. This project will increase understanding of climate-smart interventions that can scale within and outside of the University of California, driving the state toward negative carbon emissions. This work is expected to evolve into a larger UC offset project of this type.
We are partnering with the American Carbon Registry (ACR) and CAR to evaluate potential offset protocols associated with WLIC soil amendment technologies. Possible offset pathways could include emission reductions from compost application, changes in nitrogen fertilizer management that can reduce N2O emissions, and enhanced organic and inorganic soil carbon sequestration, among others. We are also working with the Larta Institute, a commercialization and small business expert, to ascertain commercial access to our amendment approaches. We are confident that both of these pathways could result in the generation of offset credits that could be used by UC to meet its CNI goals. WLIC research will inform potential protocol development and establishment of possible commercialization pathways. These discussions will be ongoing throughout WLIC research.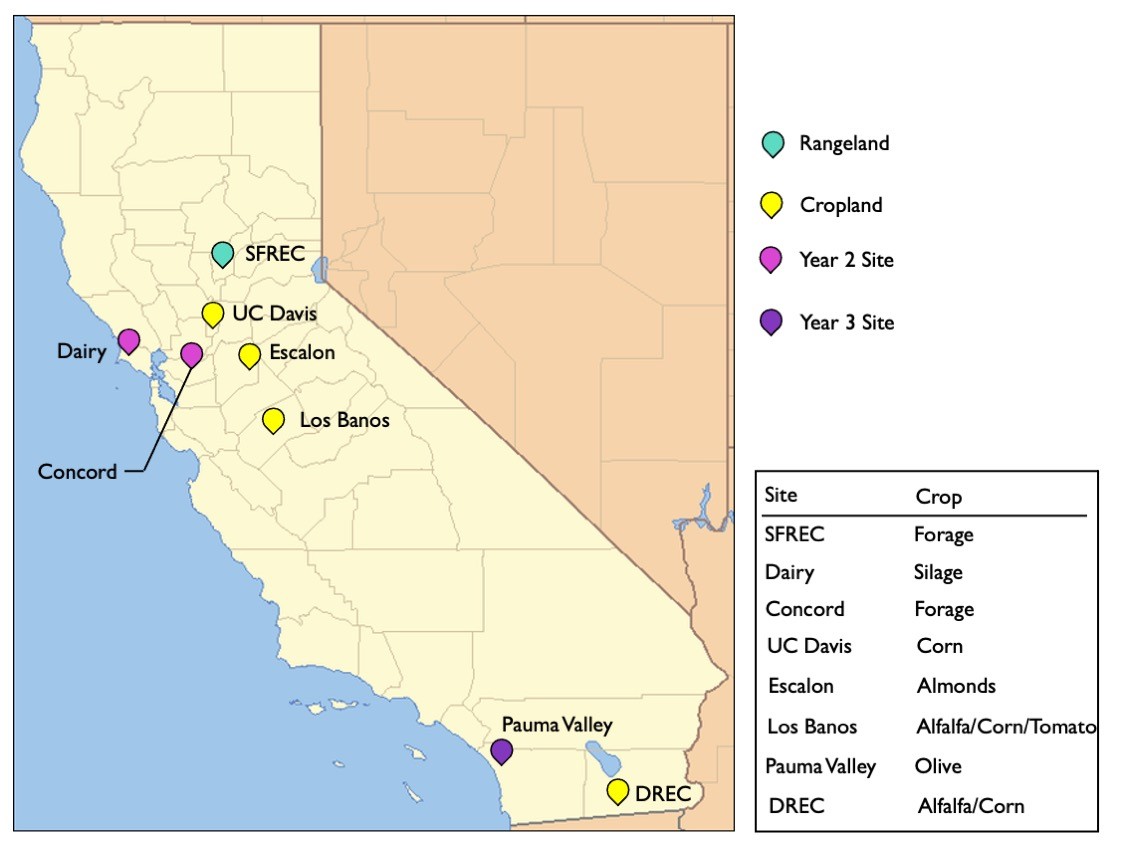 Expected Outcomes
Globally, our literature review suggests that combined soil amendments could sequester ~10 billion tons of CO2 per year if deployed on the world's croplands (i.e., 11 % of earth's surface). In CA, we estimate between 36 to 82 million metric tons of CO2 removal if deployed throughout the Central Valley. Based on past small-scale studies, we expect to find substantial co-benefits from the soil amendments under demonstration, including increased nutrient and water use efficiency, higher crop yield, and healthier soils with increased potassium, zinc and iron availability to support healthy food options for people and animals. By utilizing commercial practices in multi-acre trials, this project provides directly translatable practices for carbon sequestration in CA agriculture.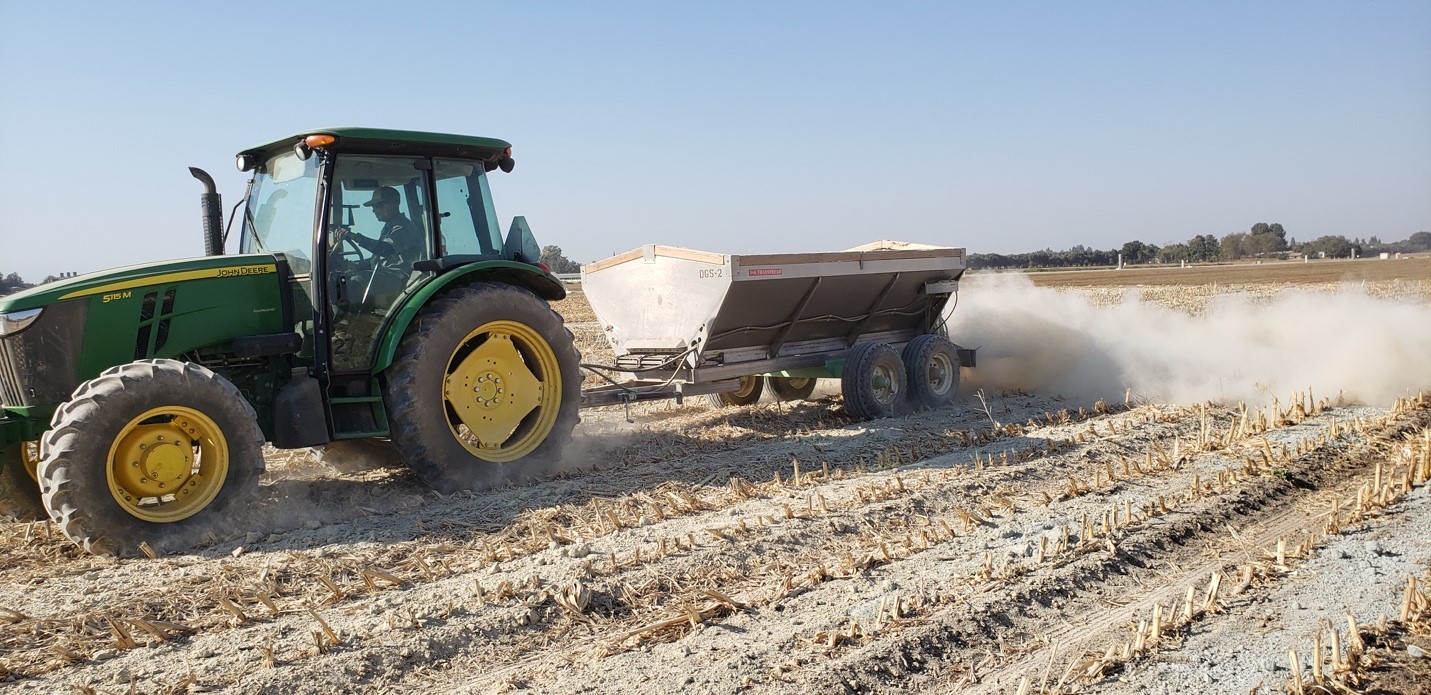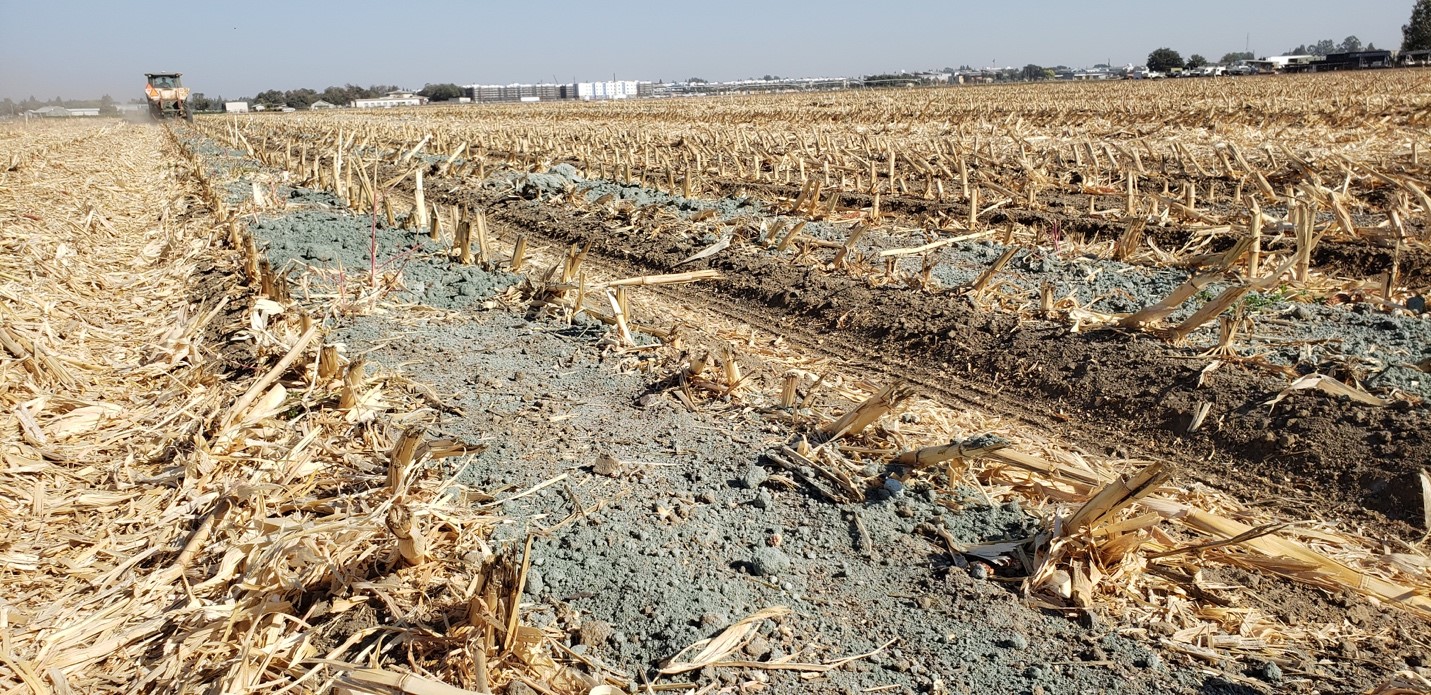 Project Lead/ Key Members
Maya Almaraz
Program Manager for the Working Lands Innovation Center, UCD
Benjamin Houlton
Ronald P. Lynch Dean, College of Agriculture and Life Sciences, Cornell University
Project Updates
We procured a greenhouse gas analyzer and began making GHG measurements at our site on the UC Davis campus.
Links
www.workinglandsinnovation.com
⇐ Return to UC-Initiated Offsets page