Kawsay Ñampi (Way of Life): Conservation and Preservation in the Ecuadorian Amazon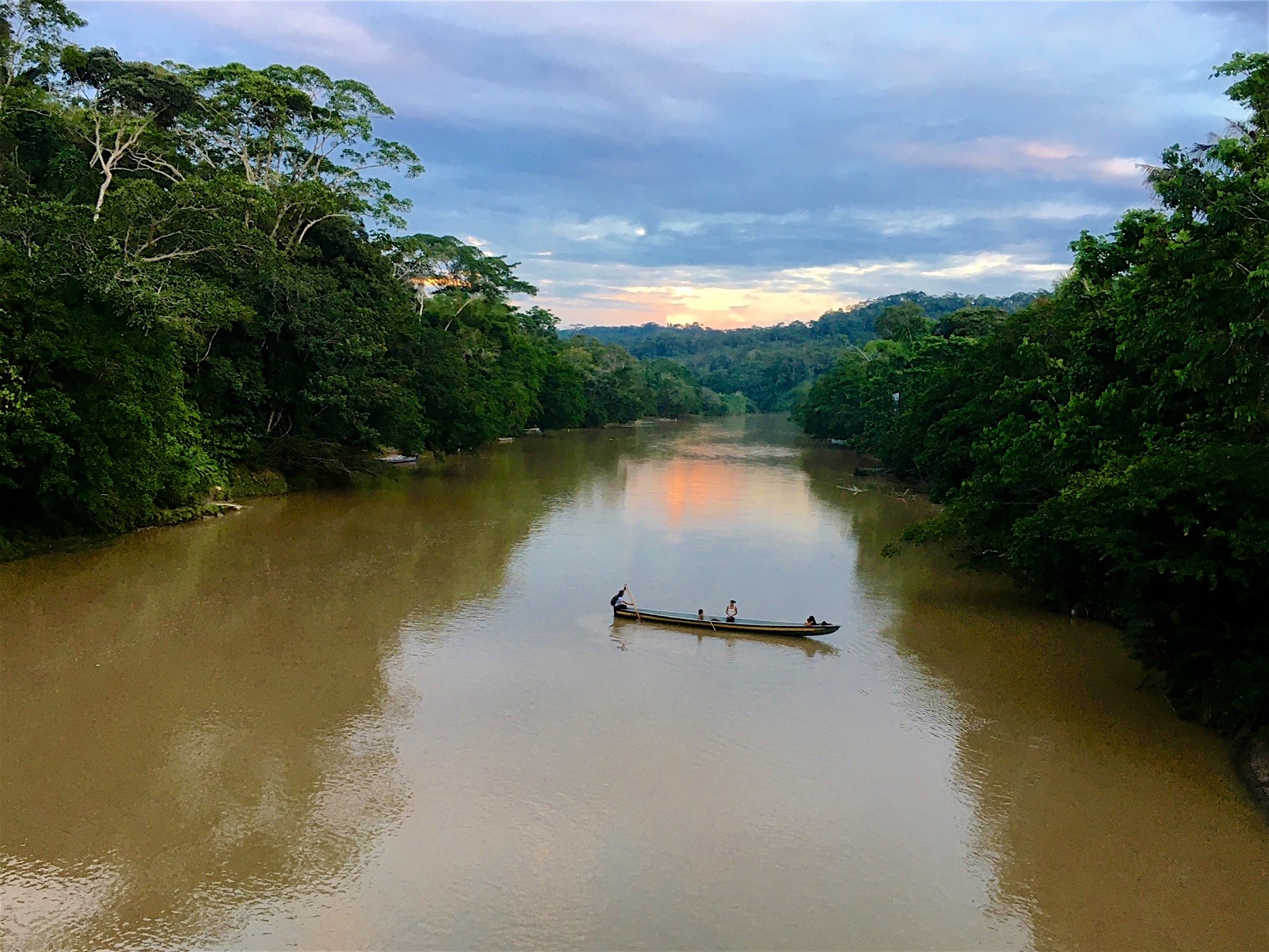 In collaboration with a Kichwa community in the Ecuadorian Amazon, a research team at UC Merced is developing an innovative Indigenous-led climate change mitigation project, called Kawsay Ñampi (Way of Life), that promotes Indigenous forest governance and land use practices associated with the long-term sustainability of the culturally biodiverse ecosystems on the community's territory. This project is based on a comprehensive proposal developed by the community to create a community-managed forest reserve, free from extractive activities, with the aim of living with the natural world in a sustainable way. Along with biodiversity and community benefits, the implementation of Kawsay Ñampi will serve to reduce emissions from avoided deforestation associated with extractive activities, including oil development that is zoned on the community's territory.
In addition to creating a forest reserve, the Kawsay Ñampi project involves building the capacity of a community-based forest technical team that will draw on traditional ecological knowledge and appropriate technologies to monitor forest health, disturbances, threats to biodiversity, and intrusion. The Kawsay Ñampi project aims to support and reinforce the community's efforts to keep their territory free from fossil fuel development by ensuring that their community monitoring systems are supported and strengthened financially, structurally, and technically. This includes paid forest guardians, monitoring and reporting systems, technical training and capacity building, along with the use of tools such as camera traps and app-based monitoring to improve their ability to track and detect both disturbances and biodiversity. In so doing, the community will avoid the deforestation associated with extractive activities and fossil fuel development and the resulting carbon emissions.
Revenue from this project will directly support the full implementation of the community's forest conservation proposal as well as the realization of their community Plan de Vida (Life Plan), the community's plan for local sustainable development. It articulates the community's history, current socio-economic conditions, and lays out a vision for the holistic development they would like to realize in the future that integrates social, cultural, ecological, economic, and spiritual values. Kawsay Ñampi aims to articulate the community's goals for their land and territory with the University of California's climate action plans to form a collaborative climate change mitigation project.
Project Lead/ Key Members
Tracey Osborne, Associate Professor, Management of Complex Systems Department, UC Merced - http://mist.ucmerced.edu/tosborne 
Laura Dev, Postdoctoral Researcher, UC Merced - http://lauradev.com
Marcelo Santos Rocha da Silva, Graduate Student Researcher, UC Merced
Project Update
Our UC team, in collaboration with Rainforest Foundation US (RF-US) and the Organization of the Indigenous People of the Eastern Amazon (Organización Regional de los Pueblos Indígenas del Oriente, ORPIO), designed and carried out the first technology and data collection training with the Kichwa Indigenous community's technical team. This training, building on existing expertise from all four partners, focused on the use of new technologies to control, monitor, and document forest health and forest disturbances in the Kichwa community's collective territory of 135,000 hectares of Ecuadorian Amazon. This is part of a pilot project designed to directly compensate Indigenous forest communities for evidence-based climate mitigation and forest conservation.
⇐ Return to UC-Initiated Offsets page