Climate Change and Clean Energy
Policy Goals:
Reduce greenhouse gas emissions to year 1990 levels by 2020.
Achieve climate neutrality for scope 1 and scope 2 sources by 2025.
Achieve climate neutrality from specific scope 3 sources (as defined by the American College and University Presidents' Climate Commitment) by 2050 or sooner.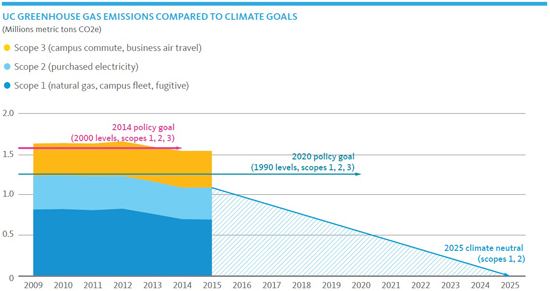 Progress Towards Goals
UC emissions remained relatively constant in 2015 compared to 2014 with a slight decrease in scope 1 emissions and a moderate increase in scope 2. Systemwide, UC needs to reduce emissions from scopes 1, 2 and 3 by 23 percent in order to meet 1990 levels by 2020. UCLA, UC Berkeley and UC Santa Barbara have already exceeded this goal and UC Riverside is within 5 percent of its target.
In order to meet climate neutrality by 2025, UC will need to reduce scope 1 and 2 emissions by 1,094,574 MTCO2e, which is the equivalent of taking roughly 850,000 passenger vehicles off the road for one year.
Strategies for Implementing UC's Commitment to Climate Neutrality
2011 report by a team of campus and systemwide leaders focused on proactive investments in carbon abatement.