Safety and Loss Prevention
UCOPSafe-T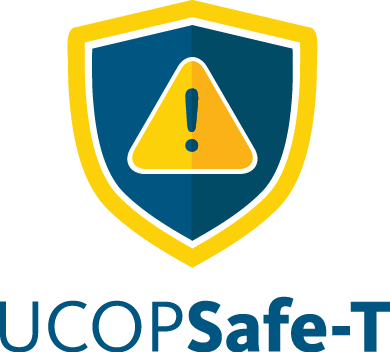 UCOPSafe-T is a suite of digital safety and emergency resources accessible from your mobile device. Available in the free SchoolDude CrisisManager app, UCOPSafe-T empowers all UCOP employees with immediate access to hazard reporting tools and emergency plans for all UCOP locations—right from the smartphone or tablet you already carry everywhere! It gets the information out of binders and into your hands during an emergency without requiring a cell signal or internet connection.
UCOPSafe-T provides:
Information to help you prepare for emergencies
Hazard Reporting: shoot a picture with your phone, fill in some details, and submit
Instructions during emergencies, such as:

Medical Emergencies
Earthquake
Bomb Threats
Fire and Smoke
Workplace Violence
Suspicious Package
Utility Failure
Widespread Emergency
Emergency Evacuation
Shelter-in-place
UCOPSafe-T is not an active notification tool. During business hours, emergency information will be communicated through the PA system or email. Off-hours notifications will be sent using the UCOPAlert system. More information about UCOPAlert, including registration instructions, can be found on the UCOPAlert website.