Safety and Loss Prevention
UCOPAlert
UCOP's off-hours emergency notification system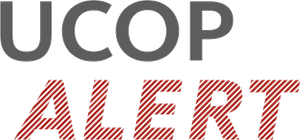 UCOPAlert is an emergency notification system that allows UCOP employees to receive informational alerts on their personal phones or by personal email outside normal business hours about emergencies or other critical situations that affect the UCOP work environment.
How it works
Through a third-party vendor, OnSolve, a technology solutions provider, UC will deliver UCOPAlert emergency notifications to employees by email, audio message and/or text message to your personal phone (home/cell) and/or email.
When UCOPAlert will send emergency notifications
Alerts will be sent when there is a natural disaster, transportation or power outage, civil unrest, unplanned building closures or other situations that pose a safety concern for employees or cause significant disruption to normal UCOP operations.
These emergency alerts will primarily be sent outside work hours when you are not in the office, but should be aware of a situation that may affect your ability to come to work. During work hours, UCOP will continue to notify employees of emergencies through your work email or office phone.
Some examples of when an alert might be sent include: 
Office closures due to widespread or localized emergencies such as natural disasters, protests and civil unrest.
UCOP building closures due to isolated building-specific problem such as a utility failure, fire or other issue that makes access difficult
Building evacuation due to a hazardous materials or other incident (you may be asked to reply to the alert to confirm you were able to evacuate safely)
Department or highly localized emergency or crisis situation that requires a last-minute cancellation of an event or change in work schedule/location (you may be asked to confirm message receipt)
Protecting your privacy
Protecting your personal information is a responsibility UCOP takes very seriously. Your personal contact information is strictly confidential and will not be shared with third parties other than OnSolve, or as required by law.
Your information will be stored on OnSolve's government/military-grade data security servers, which only select UCOP and OnSolve system administrators can access to send alerts and perform other related administrative tasks as needed.