Safety and Loss Prevention
UCOPAlert
UCOP's off-hours emergency notification system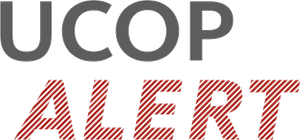 UCOPAlert is an emergency notification system that allows UCOP employees to receive informational alerts on their personal phones or by personal email outside normal business hours about emergencies or other critical situations that affect the UCOP work environment.
How it works
Through a third-party vendor, MIR3, a technology solutions provider, UC will deliver UCOPAlert emergency notifications to employees by email, audio message and/or text message to your personal phone (home/cell) and/or email.
When UCOPAlert will send emergency notifications
Alerts will be sent when there is a natural disaster, transportation or power outage, civil unrest, unplanned building closures or other situations that pose a safety concern for employees or cause significant disruption to normal UCOP operations.
These emergency alerts will primarily be sent outside work hours when you are not in the office, but should be aware of a situation that may affect your ability to come to work. During work hours, UCOP will continue to notify employees of emergencies through your work email or office phone.
Some examples of when an alert might be sent include: 
Office closures due to widespread or localized emergencies such as natural disasters, protests and civil unrest.
UCOP building closures due to isolated building-specific problem such as a utility failure, fire or other issue that makes access difficult
Building evacuation due to a hazardous materials or other incident (you may be asked to reply to the alert to confirm you were able to evacuate safely)
Department or highly localized emergency or crisis situation that requires a last-minute cancellation of an event or change in work schedule/location (you may be asked to confirm message receipt)
How to register for UCOPAlert
Registering your personal contact information is entirely voluntary.
You can register your home number, personal mobile number or personal email address by logging into the UCOPAlert registration portal at http://ucopalert.ucop.edu/.
Use your UCOP Single Sign On username and password – the same one you regularly use to log into UCOP's network – to log into UCOPAlert.
After logging into the system, update your contact profile by clicking on "more devices" to add your home number, personal cell number or personal email. See step-by-step instructions for adding your devices (pdf). Be sure to add "SMS" as a device (and enter your cell # for it) if you want to receive text messages, even if you already listed your mobile phone as a device.
Next, prioritize your personal devices (mobile phone, home phone, home email, etc.) to specify the order in which notifications are sent to these devices. This feature is called "managing your locations" and can be done on the Locations tab in the Edit User page.  
Click on the Locations tab, then click on the Default Location link.
The Edit Location Status page displays each of the devices that you have registered. Your work email address and office phone number are automatically in the system.

To activate a device for use (for example, Home Email), check the box to the left of the desired device. To deactivate a specific device (for example, Work Email), uncheck the box. This prevents inadvertent alerts from being sent to a device that you are not using.
For each device you want to use, assign a device priority by clicking the Device Priority drop-down menu and selecting the desired priority number for each device. This allows you to specify the order in which notifications will be sent to each device.
For example, select 1 for Home Phone and 2 for Cellular Phone to specify that notifications should be sent first to your home phone number, and then to your cellular phone in the event that you do not respond to the first notification.
Please note that if you choose "Mobile Phone" in the drop down menu for your device, you will only receive voice messages to that number. If you want to receive text message alerts on your cell phone, please choose "SMS" in the device drop down menu.
Because UCOPAlert is intended to be an off-hours emergency notification system, it is best that you select a personal phone or email address as your first priority device.

When you are finished setting the default location, click Save to save your settings. 
You can also customize your alerts:
Add your devices based on your location (at work, at home, etc) and prioritize where alerts should be sent
Schedule what days and times you want to receive alerts based on your location (e.g., Monday-Thursday at work, Friday at home) 
Note: Employees' work email addresses and office phone numbers are automatically entered into UCOPAlert. There is no need to edit these unless your work contact information has changed.
Protecting your privacy
Protecting your personal information is a responsibility UCOP takes very seriously. Your personal contact information is strictly confidential and will not be shared with third parties other than MIR3, or as required by law.
Your information will be stored on MIR3's government/military-grade data security servers, which only select UCOP and MIR3 system administrators can access to send alerts and perform other related administrative tasks as needed.