Safety and Loss Prevention
UCOPAlert
Frequently asked questions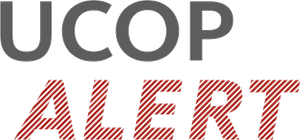 UCOPAlert is an emergency notification system that allows UCOP employees to receive informational alerts on their personal phones or by personal email outside normal business hours about emergencies or other critical situations that affect the UCOP work environment.
---
How does UCOPAlert work?
Through a third-party vendor — OnSolve, a technology solutions provider — UC will deliver UCOPAlert emergency notifications to employees by email, audio message and/or text message sent to their personal phone (home/cell) and/or email.
Under what kinds of emergency situations will alerts be sent?
We will use the system to alert employees in cases of natural disaster, transportation or power outages, civil unrest, unplanned building closures or other situations that pose a safety concern for employees or cause significant disruption to normal UCOP operations.
Will UCOPAlert messages be sent only outside of normal work hours, or also during the work day?
These emergency alerts will primarily be sent outside work hours when you are not in the office but should be aware of a situation that may affect your ability to come to work. During work hours, UCOP will notify you of emergencies through your work email and office phone.
How frequently would I receive alerts?
It will vary, depending on if and when emergencies occur. There may be long periods of inactivity when you will not receive any alerts. Be assured that your enrollment is still active, even if you have never received a message or have not received one for a long time.
Is participation in the system voluntary?
It is entirely up to you if you want to receive emergency alerts via your personal phone or email. However, we strongly encourage you to register your personal contact information so you can receive alerts when you're not in the office in the event of an emergency or other situation.
How secure will my contact information be, and will it be shared for other purposes?
Your personal contact information is strictly confidential and will not be shared with third parties other than OnSolve, or as required by law. It will only be used to deliver the UCOPAlerts for which you've registered. Your  information will be stored on OnSolve's government/military-grade data security servers, which only select UCOP and OnSolve system administrators can access to send alerts and perform other related administrative tasks as needed.
How do I sign up?
You can voluntarily input your home number, personal mobile number or personal email address by logging into the UCOPAlert registration portal at http://ucopalert.ucop.edu/.
Use your UCOP Single Sign On username and password – the same one you regularly use to log into UCOP's network – to log into UCOPAlert.
Once you've logged in, you can begin entering your personal phones and email addresses. Registering your personal contact information is entirely voluntary.
Note: Employees' work email addresses and office phone numbers are automatically entered into system; there is no need to register office email or phone numbers.
Can I opt out later if I sign up now?
You can remove or update your personal contact information at any time by logging into the UCOPAlert registration portal. Your UCOP email address and office number are automatically in the system and cannot be removed.
Can I decide how I receive alerts?
Yes. When you log into the UCOPAlert portal, you can specify whether you want to receive email, voicemail or SMS text messages — and on what devices — on the "recipient information" page. If you add multiple email addresses or phone numbers, you can prioritize the order in which your registered devices are notified. In other words, you can pick which device or phone number the alert goes to first, then second, and so on.
What if my contact information changes after I enroll?
Updating your contact information is easy. You can make changes at any time through the UCOPAlert registration portal.
Can my family enroll?
Only employees can enroll at this time. As we evaluate the program in the future, we'll consider broadening it to include family members if there is a demand and need.
Is there a cost to participate?
No, this service is free to employees. However, if you decide to enroll your personal cell phone number, you may incur a charge for receiving UCOPAlert text messages, depending on your mobile phone plan and carrier.
What happens if the number I register is blocked from receiving SMS messages?
If you deliberately block incoming SMS text messages to avoid spam but you want to receive UCOPAlert messages, contact your mobile service provider to unblock these two numbers, which will be used to send emergency alerts: 54292 and 36475.
Why is UCOP working with OnSolve for this service?
UCOP does not keep employees' personal contact information or have the telecommunications infrastructure for this type of mass notification system. We selected OnSolve, a global technologies solutions provider, to provide this service. OnSolve has a proven track record of providing this kind of service to many higher education institutions and private companies.
What will a message look like? How will I know it's legitimate and not spam?
Email messages will clearly state "UCOP Alert" and will be sent from an "UCOPAlert@ucop.edu" email address. Voice messages will clearly announce "University of California emergency alert system" before delivering an emergency notice.
How soon after an emergency will I receive an alert and how much detail will it have?
When an incident happens, we will assess the situation and determine if a notification is warranted before sending out an alert. You should receive an alert shortly after we send them – usually in 90 seconds on average. The alerts will have as much detail about the emergency as we know and can share. It may also have specific instructions to ensure your safety, callback information and a request for you to respond to confirm that you have received the alert. For example, if there is a building evacuation due to an incident involving hazardous materials, you might be asked to respond to an alert to confirm that you were able to safely evacuate.
UCOP sends out mass office emails now to let employees know about important events (e.g., Occupy activities, street closures, etc.). Once UCOPAlert is launched, will those emails stop? If not, why do I need UCOPAlert?
UCOP will still send important notices about non-emergency situations to your office email address, as needed. These communications will remain separate from UCOPAlert, which is reserved for alerting employees about emergencies during non-business hours.
Where can I get more information about what to do in an emergency?
UCOPAlert may provide information about what to do during the specific emergency, depending on the circumstances. In addition, if there is a natural disaster or other widespread emergency that affects the region, monitor local media for information and directions. Your local police or fire department may have special instructions and information. Whether you're at the office or at home, being prepared for an emergency is important.
You can find personal (individual and family) preparedness tips, checklists, and resources on the UCOP Personal Emergency Preparedness website.
Emergency procedures guides for all UCOP facilities and staff-related emergency preparedness info is located on the UCOP Staff Emergency Procedures website.