Information Technology Services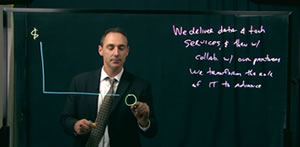 As chief information officer for the University of California system, one of my key initiatives is to encourage collaboration and innovation among IT personnel across the UC locations. Campus CIOs, other IT leaders, and I together are pursuing a number of avenues. One is simply to create opportunities for people to meet each other and share ideas, for example, through increasing attendance at the UCTech Conference from 300 to over 550. We also are investing in the development of our internal leadership and have initiated the IT Leadership Academy, offered through the UC Berkeley Haas School of Business. I am also very committed to expanding opportunities for UC IT staff to grow their services and develop business opportunities. To this end, we have created the UC IT innovate program.
Please read about these initiatives and send me your thoughts and ideas about how to promote collaboration and innovation among UC IT.
      Tom Andriola, University of California Chief Information Officer
      (510) 987-0405 | Tom Andriola | @Andriola_UC
Current role and professional background of the UC CIO
Repository of presentations and appearances by the CIO
Information about the systemwide UC IT Leadership Council