Information Technology Services
Caution: E-mail Phishing/Spam Attack
October 28, 2013
To: UCOP Community
From: Shirley Bittlingmeier, ITS Client Services Officer
Earlier this morning an email was sent out from an external account to many UCOP email addresses.  The subject line says "From University of California Admin" and  is from…Ernie Johnson [mailto:ernie.johnson@mcc.edu]
Please ignore and delete that message.  It is an attempt to secure your username and password information by appearing to be from a legitimate account administrator.
Do not reply to this message or click on any links!
(Phishing is a fraudulent attempt to electronically acquire sensitive information such as usernames, passwords, and IDs by masquerading as a trustworthy individual or entity.)
(Spam is unsolicited junk or bulk email involving identical messages sent to numerous recipients which could include phishing web sites or sites that host malware.)
Stay on the alert for phishing attempts. Some are very sophisticated and the e-mail may appear to be sent from someone you know. You should be suspicious of any e-mail asking for personal, user account information or account verification. Remember that the Service Desk will never ask you for such information via e-mail. Delete such e-mails immediately and empty your trash.
An example of today's phishing/spam attempt is shown below.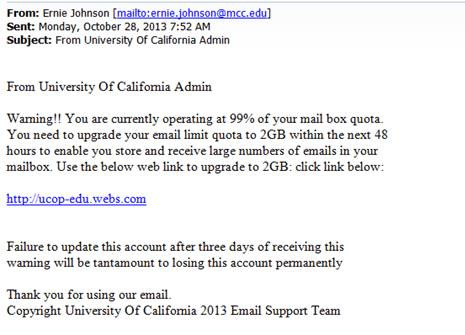 If you have questions or concerns, please contact the Service Desk at 987-0457 or ServiceDesk@ucop.edu.