Information Technology Services
Adding UC Holidays to Outlook Calendar
January 9, 2013
To: UCOP Community
From: Shirley Bittlingmeier, ITS Client Services Officer
Re: Adding Holidays to Outlook Calendar
In the past ITS had added UC holidays to the Outlook calendars. Unfortunately, software configuration and patch changes that have been applied since last year restrict our ability do this again this year. We sincerely apologize for this inconvenience and are researching solutions.
In the meantime, UCOP personnel have two options:
Manually add the holidays to your calendar as all-day meetings. The official holiday list is available at http://hrop.ucop.edu/employees/holidays.html. This method works on both Windows PC and Mac computers.
For Windows PCs only, follow the instructions below to add all holidays at once to your calendar. This method will not work on a Mac, iPad, iPhone, or other non-Windows based systems. However, once entered, the holidays will appear on all mobile devices, in OWA, and on other non-Windows based systems.
How to Install Administration Holidays on a Windows PC
1. Double click on the attached Outlook.HOL file. (You also may request this file from the IT Service Desk.)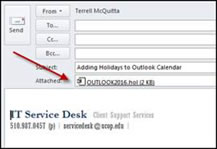 2. Click "Open."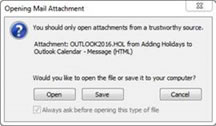 3. Check "UCOP Administrative Holiday," and hit "OK."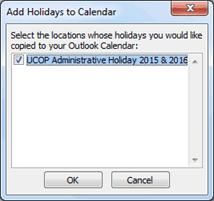 4. Click "Yes."

5. You should see a popup screen confirming that the holidays were added.
If you experience any problems, contact the IT Service Desk at (510) 987-0457 or ServiceDesk@ucop.edu.